Lavaud Blanche cottage: Sauna
Our sauna is a traditionnal finnish wodden made one, heated by an electric oven. Optimum sauna temperature is around 80 C degres, and the average sauna bath duration is 10 minutes. After a saunabath, a cool shower and a bath in the interior swaimming pool is really relaxing. Several cycles of sauna-shower-bath can be done, depending on your schedule, the which might not be very busy in Lavaud Blanche !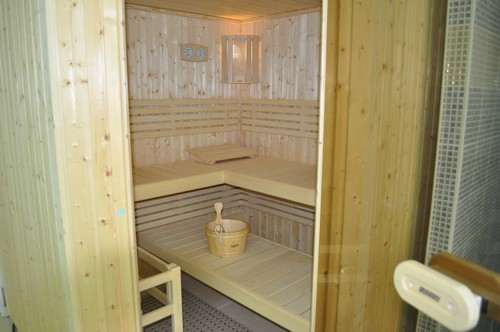 Lavaud Blanche cotage sauna
Our sauna has a maximum capacity of 4 adults. It is finnish made following Nordic tradition and expertise.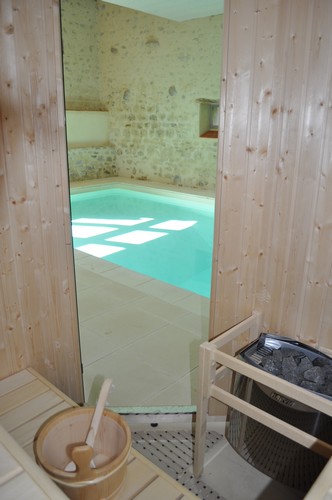 The indoor swimming pool, viewed from the sauna
Sauna user guide
If you are not familiar with sauna, these are guidelines for your sauna bath:

Swicth on the heater, one our before your sauna bath;
fill the wooden-water tank with approx. 2l a frash water;
Take a shower;
Enter in the sauna cabin, and take with you a sauna towel;
Tune the air humidity in putting water on the heater stones ;
Stay about 10 minutes in the sauna;

Take a cool shower;
Have a break, drink fresh water, and redo the whole cyle, maximum three times .

Copyright "Eco-Logis en Marche" 2010, tous droits réservés